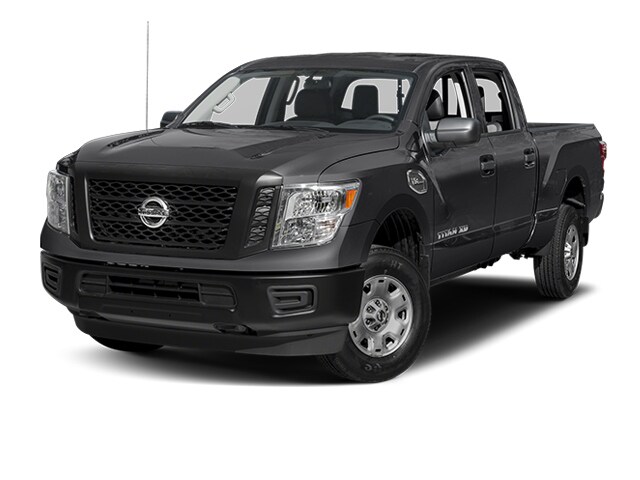 Although midsize trucks are gaining an increasingly strong following in the American truck market after seemingly being ignored for quite a while, full-size trucks still reign supreme as far as sales are concerned. So, even though Nissan and other Japanese manufacturers do great business in the rest of the world with midsize and even compact pickups, they've had to develop full-size offerings to properly compete over here. Although it's been a while getting here, we're now proud to say you can finally come and see the fabulous new, second-generation 2017 Nissan Titan here at Edison Nissan.
It's probably hard to believe in today's fast-paced market where everything seems to have to be new or updated every year, but the first-generation Titan was with us for an incredible 12 years until the 2017 Nissan Titan Landed with us here at Edison. When the first Titan was originally unveiled back in 2004, Nissan actually stole a march on arch-rival Toyota as its fierce competitor was still a full three years away from launching its own entry into the full-size truck segment.
Over the 12 years the first-generation Titan was in production, the manufacturer made relatively few changes to it during that time. To be fair, that did allow the likes of Ford, GMC, Ram and Chevy to regain some lost ground as time went by, but now the all-new 2017 Nissan Titan is here to pick up the gauntlet once again.
The 2017 Nissan Titan sits upon an all-new ladder frame and is equipped with an updated gasoline engine that comes mated to a seven-speed automatic transmission. This impressive powerplant develops 390 horsepower and 394 lb.-ft. of torque, which is 73 horsepower and 9 lb.-ft. more than its predecessor delivered. Nissan isn't going to stand still when it comes to powering the new Titan though, as a new turbo-diesel will arrive later in the model year along with the first-ever regular cab to be added to the lineup.
As well as delivering a better driving experience for the new Titan, swapping the previous five-speed transmission for the new seven-speed automatic is also helping with that all-important fuel economy. This second-generation Titan now gets EPA-estimated fuel economy figures of 15 mpg in the city and 21 mpg on the highway, which is a significant improvement on the 13 mpg in the city and 18 mpg on the highway of the first-generation. So, you probably don't need us here at Edison Nissan to tell you how desirable the combination of more power and better fuel economy makes the all-new Titan.
There are now five different trim levels to choose between with Titan, which start off with the ready-for-work S model and then go up through SV, Pro-4X, and SL trims before the range tops-out with the fabulously well-equipped Platinum reserve. The crew cab S model starts off at just $34,780 in its standard rear-wheel drive format, while full-blown four-wheel drive is available for all models and is standard with the off-road focused Pro-4X.
To find out more about the all-new

2017 Nissan Titan

and to schedule a test drive, don't hesitate to get in touch with us here at Edison Nissan and we'll show you what all the fuss is about.