Nissan Future Lab Plots New Course for Mobility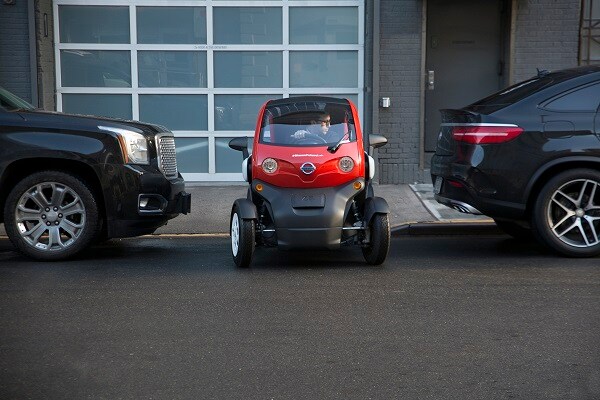 Backed in part by the efforts of Edison Nissan, the LEAF has become the No. 1 electric car in the world by volume, with nearly 230,000 sold. Here in the United States, the car's total sales are fast approaching 100,000. Yet even as the LEAF has become a major player on the current EV scene, the company also is looking forward to the development of Future Nissan Electric Cars. In fact, that's a key goal of the Nissan Future Lab, which was founded in 2014 to "impact mobility from now until 2025 in ways that improve the quality of life and are sustainable."
One such experiment from the Future Lab's California office actually has to do with "micromobility" vehicles. These are small, all-electric vehicles that could have a big impact on urban driving.
As explained by Rachel Nguyen, director of the Nissan Future Lab: "As large cities continue to grow into megacities globally, we need to better understand how transportation is changing and anticipate what transportation needs will look like in the future. With the fast-pace growth of smart technologies and the emergence of the sharing economy, we are studying how this size and package of electric vehicle fits in real-life customer situations."
More specifically, Nissan has partnered with a company called Scoot Networks to add 10 of the automaker's Nissan New Mobility Concepts (NNMCs) to the latter's ride-sharing program in San Francisco. It's a good match, since Scoot's previous vehicles of choice have been electric scooters. The all-electric NNMCs provide the same sort of energy-efficient travel-and about 40 miles of driving range-but in a slightly larger, four-wheel setup that's still not as big as even a small car. For example, with a length of 92 inches, an NNMC is still more than a foot shorter in length than a Smart coupe. Indeed, Nissan claims three NNMCs could fit into a single standard parking spot.
Another focus of the Nissan Future Lab is vehicle-to-grid (V2G) technology. In this process, when demand is low, excess power from the nation's electrical grid is stored in the batteries of EVs, which can then send the electricity back to the grid when demand rises. This is more than just wishful thinking, too. Nissan teamed up with the U.S. Air Force for a small-scale V2G pilot program in 2015, using modified LEAFs, and it's still going strong.
These so-called "Living Lab" experiments from the Future Lab are especially important, according to Nguyen: "Working within the 'Living Lab' framework allows Nissan to experiment out in the marketplace. By combining our hardware with outside software, services and systems into collaborative beta tests, Nissan has an opportunity to develop new product and service offerings that fit in the new mobility economy."
Needless to say, you can expect to see those new product and service offerings to make a difference at Edison Nissan, too.