Nissan-sponsored National Drive Electric Week Sets Records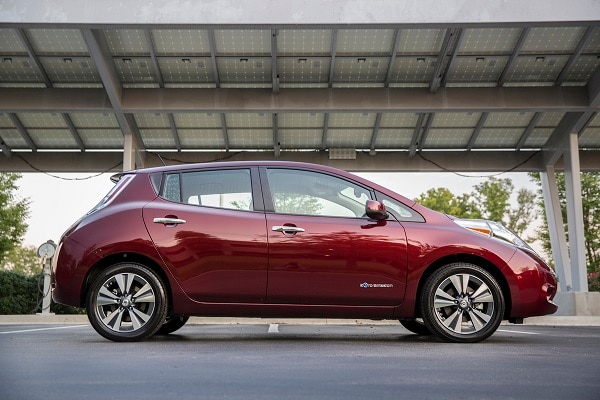 The 2016 National Drive Electric Week wrapped up recently in September, and thanks to some help from its exclusive automotive sponsor-the all-electric LEAF that's now available at Edison Nissan-the annual event saw record-breaking participation from around the world. According to a report from Plug-in America, some 235 events were held in 212 cities, spanning seven countries and 46 U.S. states. That organization works with the Sierra Club and the Electric Auto Association to serve as national resources for the local activities, which are led by local EV supporters and aimed at highlighting the benefits of electrified vehicles.
Nissan's support included the previously mentioned sponsorship, plus some big news for LEAF customers: Nissan announced during this year's National Drive Electric Week that it had expanded its "No Charge to Charge" program to two more cities. It raises the total to 50, all of which offer public stations where LEAF owners can enjoy free charges during the first two years of ownership (or lease). Nissan values that benefit at up to $10 per charge and estimates that owners can save up to $1,000 during their program eligibility.
Remember, too, that the LEAF itself also has been upgraded for the 2016 model year. Nissan engineers developed a new, more powerful 30-kWh lithium-ion battery that's standard on LEAF SV and SL trims, and with that unit on board, range jumps by 27 percent. As a result, those LEAF models are capable of 107 miles of all-electric driving on a single charge, with efficiency ratings of 124 MPGe city/101 MPGe highway 112 MPGe combined. An entry-level Tesla Model S, for comparison, has the same highway number, but the LEAF has a massive 26 MPGe advantage in city driving, for a lucky 13 MPGe lead in combined travel.
And the connection between Nissan and Renewable Energy doesn't end with the LEAF. The automaker is fully committed to sustainability and has, for instance, set a goal of increasing the use of renewable energy in its global activities by 9 percent by fiscal year 2016.
Moreover, Nissan has a long track record of environmental responsibility on the global stage, with Nissan's Sunderland Plant in the United Kingdom being a case in point. There, an array of 10 wind turbines supplies about 5 percent of the plant's needs-some 6,500 kW. Other examples range from a 200-kW solar array for Nissan's manufacturing facility in Spain to a comprehensive range of efforts for its U.S. assembly plants.
Which no doubt helps explain why the Department of Energy honored Nissan with a 2016 ENERGY STAR Partner of the Year Award for Sustained Excellence (in the field of Energy Management). Created to recognize organizations that excel each year in improving operational energy efficiency, the Partner of the Year program actually recognized Nissan for the fifth year in a row.
Said Gina McCarthy, EPA administrator: "By continued collaboration with ENERGY STAR, Nissan is helping Americans save money, save energy, and do their part to reduce our nation's greenhouse-gas emissions that exacerbate climate change."
Meanwhile, if you're ready to do your part by checking out any of Nissan's high-efficiency cars, crossovers and trucks, that's what we'd like to help with.
*All vehicle mileage based on 2016 EPA mileage estimates. Use for comparison purposes only. Do not compare to models before 2008. Your actual mileage will vary, depending on how you drive and maintain your vehicle.