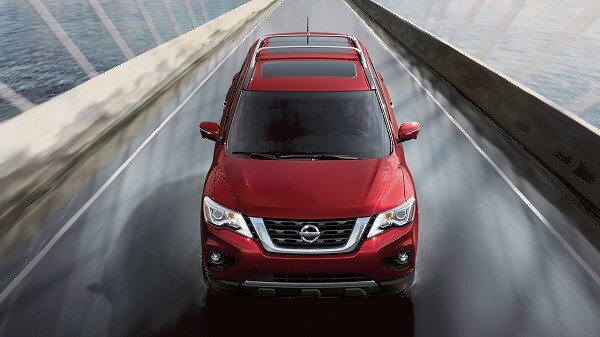 Nissan's 2017 line of SUVs are certainly impressive, and the 2017 Nissan Pathfinder is no exception. It offers a bit more than its classmate, the Rogue, as it offers more than 100 additional horses, and can seat up to seven comfortably. These reasons and others are among the many that make the Pathfinder the perfect SUV for spring.
Impressive interior volume is a sure sign of a quality SUV, and the Pathfinder excels in that category. Drivers can fill the cabin with up to seven passengers comfortably and still have enough room for up to 16 cubic feet of cargo. Don't have seven friends? That means that you can drop the third row to acquire more than 47 cubic feet, or drop both the second and third rows for a virtually flat interior bed with nearly 80 cubic feet of space.
Do you play chauffeur for your daughter's little league team? Do you need space for your equipment you're taking on your next fishing trip? If you have even more cargo and need even more space, there's an under-floor storage area, designed specifically to be easily accessed no matter which rows are folded or upright. It's sure to keep all of your valuable items out of sight, too.
Drivers will be thankful for it when seven passengers do, in fact, need to come along for the ride.
2017 Nissan Pathfinder Gives Drivers Options
No other SUV in the class gives drivers the choice of 2WD, 4WD or Auto Modes, but the 2017 Nissan Pathfinder does.
By turning the available All-Mode 4x4 i-dial (located right behind the gear shift), your Nissan Pathfinder will be locked into 4WD for all of those rough terrains you trek and varying weather you might have to soldier through. When you're on the highway and looking to achieve better mileage, no problem; just turn the dial again to switch over into 2WD.
Seem too complicated? No worries there. The intuitive Auto Mode can detect slippery roads and coarse terrain and will automatically adjust power to each wheel when the circumstances call for it. Once the situation smooths itself out, it switches back to 2WD.
April showers are sure to bring May flowers, but don't miss the boat. Look for new ways to drive through those torrential downpours this spring. The performance provided by the 2017 Nissan Pathfinder is a great place to start.
Edison Nissan is proud to make spring cleaning easy for you this year. Clear out your garage today, and make room for your new Pathfinder before you visit Edison Nissan. If you're looking to check things out before you stop in, take a look at //www.myedisonnissan.com/ or call to schedule a test drive.