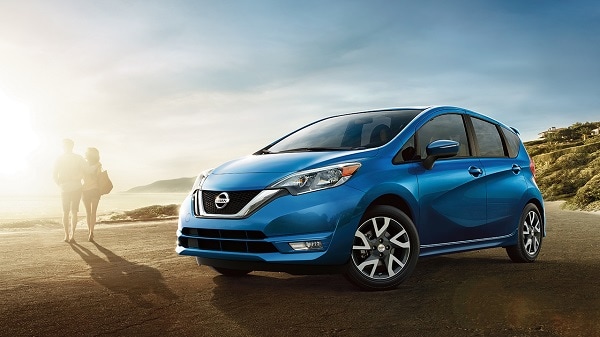 Picnics are a tradition that travel all the way back to mid-18th century. From the French for piquenique, picnic means a meal eaten outdoors. Why not show your appreciation of nature and celebrate National Picnic Day on April 23. It's the perfect excuse to leave the house and enjoy a relaxing lunch in a beautiful park. To get there, though, you'll need a fuel-efficient, environment-friendly ride like the 2017 Versa Note.
With four different trims of the
2017 Nissan Versa Note
, including the S Plus, SV, SR, and SL, you'll be able to get to your picnic both efficiently and in style. Each comes standard with a 109-hp 1.6-liter 4-cylinder engine and Xtronic CVT, an automatic transmission that uses two pulleys with a steel belt running between them. Upgrades on the higher trims can include amenities such as a RearView Monitor, 16" machined aluminum-alloy wheels and NissanConnect with Navigation and Mobile Apps.
Pick the Versa Note that's perfect for you, and let it get you from Point A - your home - to Point B - your picnic - this April 23.
Versa Note Helps Drivers Celebrate National Picnic Day
The 2017 Nissan Versa Note is an impressive model that is sure to catch the eyes of shoppers. The aforementioned 1.6-liter engine is under every hood and it conserves energy and helps to protect the environment, all while providing an inspiring boost. It boasts 109 Horsepower, 107 lb-ft of Torque, and achieves an impressive 31/39 mpg (city/highway).
Simply stated, the Versa Note performs in precisely the way that drivers hope and have become accustomed to from a premium Nissan model.
If you're a social butterfly looking to invite some friends on your picnic, you can call up to four, and you'll still have room for 18.8 cubic feet of cargo space. Do you have to fill a picnic basket large enough to feed everybody in your group? Fold down the 60/40 split seats, and load up your board. If you need more space for blankets and equipment for outdoor activities like horseshoes, use the Divide-N-Hide Adjustable Floor to create a convenient loading platform, or drop the back seats for massive space.
Get to where you need to go in a spacious compact hatchback like the new Nissan Versa Note. Visit Edison Nissan before your next picnic, or browse //www.myedisonnissan.com/ if you're looking to check things out before you stop in. Feel free to call the dealership to schedule a test drive, or whenever you're ready to schedule your car for service.